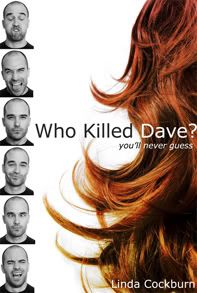 Author: Linda Cockburn
Publisher: Together Press
Publishing Date: 2009
ISBN: 9780646501321
From the back cover:
Dave died in mysterious and grotesque circumstances and the murder has caught the imagination of a nation. There's a television poll running and 46% of voters believe Robyn is guilty. Maybe she did, maybe she didn't, she wasn't in any state to remember.

But hey, if you're pointing fingers then Kaos Court is full of people crazy enough to commit the crime.

This part time masseuse, part time tarot card reader is going to need all her skills to find out who killed Dave, because it's the only thing standing between her and Detective Mark Hood, a man she could never marry, not when your first name is Robyn. Right?

A whacky whodunit comedy that cartwheels from one chaotic moment to the next.

And who killed Dave? ... You'll never guess!
Do you enjoy a good murder mystery? Feel as though you have the blood of Sherlock Holmes running through your veins? If so, then grab your magnifying glass and join the residents of Kaos Court to find out 'Who Killed Dave?'.
Kaos Court is a whacky Australian suburban street which houses an array of even whackier residents who range in whackiness from a blind telephone sex operator to Harry the Hermit and Bundy the Pitt Bull. In Who Killed Dave?, Linda Cockburn, takes the reader on a journey through the bizarrely connected lives of these residents.
Who Killed Dave
? is narrated by Robin, a psychic masseuse and one of the more balanced residents of Kaos Court. However, trouble seems to follow Robin around and she continually has to navigate her way through a series of bizarre and dangerous situations in her quest to find out who killed Dave - one of the Court's more unpopular residents. Everyone in Kaos Court becomes a suspect in Dave's bizarre murder, including Robin, and to be honest, any one of them are crazy enough to have committed the crime.
Witty and full of surprises, Who Killed Dave? is a tale that is bound to please those with a sense of humour, any fan of crime fiction with a touch of the bizarre or anyone who just wants to have a good laugh at the expense of others.
Who Killed Dave
? is recommended reading for anyone looking for a light-hearted and raunchy murder mystery.
So, who did kill Dave? You can grab a copy
here
if you want to find out!
Rating: B
About the Author:
Taken from
Together Press
Linda Cockburn is the author of
Living the Good Life - Simple Strategies for sustainable Living
, also titled
Living the Good Life - How One Family Changed their world from their own backyard
, published in 2006 by Hardie Grant and 2007 by Snowbooks.

The book details Linda's family's attempt to live six months from a suburban block producing their own food, power, water, transport and creating zero waste. They've been featured on Channel 7's Today, Tonight, Time Magazine, Notebook, That's Life and many others. Linda is a regular contributor to ABC Organic Gardening Magazine.

Linda has almost clocked up enough hours in Australia to be considered true blue, but her pronunciation of 'fish n' chips' still gives away her kiwi origins.

Linda, partner Trevor and son Caleb have moved to Tasmania where they are building a strawbale home without use of concrete, PVC and chemical paints. They've surrounded themselves in goats, sheep, chooks (chickens) and bees and spend most of their time saving on gym fees working out in the garden.