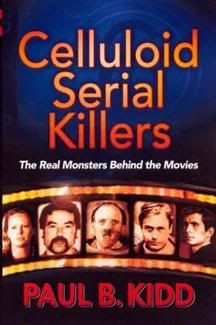 Author: Paul B. Kidd
Publisher: The Five Mile Press
Publishing Date: 2007
Genre: Non-Fiction, Serial Killers
ISBN: 9781741784275
Australian true crime author, Paul B. Kidd, presents an excellent reference guide on serial killer movies and the fiends who inspired those movies. Kidd has produced a comprehensive and compelling guide to the history of the serial killer movie genre and introduces the real-life serial killers who inspired these movies.
This book is made up of 45 separate chapters, with each chapter covering a different movie. Each section comprises a review of the movie, a movie poster, a biography and picture (if available) of the actual killer. The book offers a very comprehensive coverage of the most influential serial killer movies and a detailed introduction to some of the most depraved serial killers in history, including Fritz Lang's
M
(1931), Alfred Hitchcock's
Psycho
(1960),
Henry Portrait of a Serial Killer
(1986) and
Zodiac
(2007). Kidd also includes some movies which are not based on an actual historical serial killer such as
Sea of Love
(1989),
The Bone Collector
(1999) and
Blood Work
(2002).
Celluloid Serial Killers
is presented in an easy to read format and, while the content matter is not for the faint-hearted, it is ideal for both true crime fans and movie buffs alike. After reading this book you may find yourself running out to get a copy of the movies that Paul B. Kidd recommends. A highly recommended read.
Rating: A
About the Author:
Paul B. Kidd is an Australian true crime author and recognised authority on Australian serial killers and criminals. Kidd is also radio talkback host, research producer and photojournalist. He is the author of approximately sixteen books on various subjects including true crime and fishing. Paul B. Kidd currently resides in Sydney, Australia.
You can purchase this book from the following link:
Celluloid Serial Killers: The History of Serial Killers in the Movies